There are more than 50,000 Trucks, Pickups and Covered Vans across the country with Truck Lagbe platform. And this number is increasing constantly. So it is possible to easily hire any type of truck or pickup from anywhere in the country using the "Truck Lagbe" app.
For everyone's convenience, Trucks can be hired using the app in two ways-
1. Instant Booking
In this case, you can book a truck instantly according to the rent specified in the app using the "Need now" option.
[Learn how to hire a pickup at a fixed rate from this blog]
2. Schedule Booking
You can book a truck for a later period using the "Schedule" option of the app. In this case, the fare is determined through bidding; The truck owners/drivers will bid on the trip that you posted and let you know their fare.
[ Click here to know about hiring truck via bidding]
Now let's take a brief look at the steps to hire a truck using "Truck Lagbe" app:
Download "Truck Lagbe" app from google play store

Log in to the app using your mobile phone number and the OTP code sent to that number

Select Load point and unload point

Mention the size and type of Truck which you need for transporting your goods

Mention the date on which the goods are needed to be transported

Specify the exact time when the goods are needed to be loaded

Mention the type of goods that you are transporting
The truck owners will be able to see the trip that you posted, and if the trip is for a later time, they will bid in this way-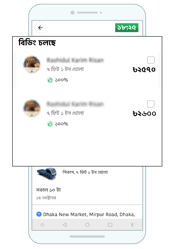 From here, you can book a truck by talking to the truck owner/driver directly by accepting the bid which you prefer.
Download the app now to hire trucks.