With the increase in the number of vehicles in our country, the number of accidents is also increasing every day. According to statistics, the number of deaths in road accidents in 2020 alone was 5,431 (1). This number is increasing every year when compared to previous times.
After motorcycle accidents, the most common accidents that we read about in newspapers are related to trucks. Some key reasons behind such accidents are the driver's fatigue from driving for a long time and driving the truck with sleepy eyes at night. Many drivers of different ages are constantly dying in accidents; which is not only taking away a life, but also crippling a family. Because most truck drivers are usually the sole earner in the family. And the family is not getting any kind of administrative compensation for such accidents.
Since its inception, "Truck Lagbe" has been working to keep this major manpower and their families safe. Following that effort, for the first time in the history of Bangladesh, Truck Lagbe has launched a life insurance facility for truck and pickup drivers through a joint venture with Guardian Life Insurance, one of the leading life insurance companies in the country.
To avail the insurance benefits package for your truck or pickup drivers, please call us directly on this number - 09638000245
The life insurance facility can be availed by any driver of a truck registered with the 'Truck Lagbe' app. To get this facility, the truck driver has to pay only 450 Tk for 1 year through his 'Truck Lagbe Owner' app. During this 1 year period, if the driver faces natural death or is physically disabled due to an accident then he or his family will receive the amount of 1 lakh taka. On another account, If the driver becomes dead in an accident then his family will get a maximum of 2 lakh Tk from the life insurance company.
Learn how to avail this life insurance from the 'Truck Lagbe Owner' app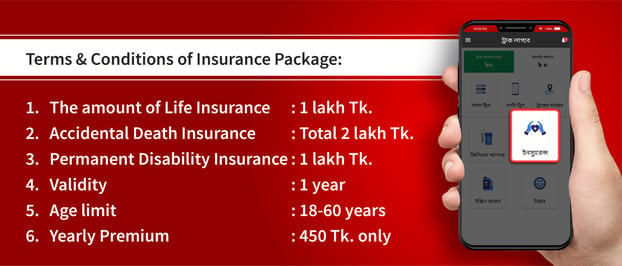 One of the major driving forces of a country is the transport system of that country and our truck drivers are an integral part of that transport system. Life insurance can become a recourse for a family after an accident. But it is desirable for all truck drivers to drive properly and to keep themselves and their families safe.
If you want to know more details about life insurance coverage, call us directly on this number - 09638000245
To get trips and insurance benefits download the 'Truck Lagbe Owner' app now