The first thing that comes to mind when thinking about shifting house is how many troubles you have to go through while shifting. Everything in the current house is needed to be rearranged in the new house, there is no pre-calculation for how many things you have to take preparation for! Amongst all these, often we overlook many important tasks, which come to mind at the eleventh hour. Hence, we face unwanted problems.
Such problems and other troubles can be solved easily if a list of all the tasks can be made in advance. Then just by looking at that checklist before the time of shifting, the tasks can be completed one by one and unwanted hassle can be easily avoided.
So to make your house shifting experience easier, we've divided all the things you need to do to move into 3 parts: before, during and after shifting. Let's know the details:
Before shifting house
1.
Informing the current landlord
Advance rent is often deducted if you are late to inform the landlord about your relocation plan. So if you are thinking of shifting, you must inform the current landlord at least 2 months in advance.
2.
Confirming the new house
Confirm your next house at least 1-2 months ahead of the day you want to shift. There are several online platforms which you can use to search for a new house in Dhaka.
Once you confirm your new home, inform both your current and new landlords about shifting date and time.
3.
Making a list of goods to be shifted
Make a list of all the things you have in your home. If listed in advance, it will be helpful to arrange your household items properly.
4.
Confirming a moving company
If you need the help of a moving company to reduce the hassle of moving house, then confirm the service of a moving company 1 month in advance. Many times if you confirm at the last moment of the month, the cost may be higher as the demand is also higher at the end of the month.
If you want to know more about this before shifting house, you can directly contact the home shifting specialist of Truck Lagbe. Fill out this form to get the free consultation service.
5. Arranging necessary materials for packing
There are many essentials including clothes, books which have to be packed well. So buy cartons, paper rolls etc. for pre-packing.
Many moving companies also provide such packaging. In this case, if you inform them, they will send the necessary packaging materials beforehand.
6. Discarding the unnecessary goods
Most of the time during relocation, one realizes how many unnecessary items or clothes are there in the house. Keeping all these unnecessary things will only increase the amount of goods. So, unnecessary items can be discarded or given to someone if they are in good condition.
7. Taking accurate measurement of Door and Staircase size of the new house
Measure the doors and stairs of the new house that you are moving into. there are often relatively large items that cannot be carried by narrow doors or stairs.
So if you have taken measurements in advance, you can plan how to carry the goods in advance.
8. Informing the cable and internet companies
Inform the cable and internet providers in the area before moving to a new home so that you do not have to wait after moving.
9. Start packing and labeling
Pack clothes, books, dinner sets, etc. in separate cartons at least 3 days before the move.
Number the packaging of different goods and mark what is in each box. Make a list of all the packages so that there are no boxes left during shifting.
While loading the goods into the truck, look at the labeling and ask the laborers to carefully handle the box which has fragile items.
Once the packaging is done, tie the cartons or boxes well with scotch tape or rope, so that there is no possibility of the goods going through the bottom of the packaging later.
10. Arranging separate packaging according to the type of goods
Arrange separate packing for dinner sets or other glassware. It is better if you can arrange a plastic case, or you can put a cloth in a big bucket, so that there is no possibility of breaking if shaken.
In the same way, keep crockery items and essentials baby products packaged separately, so that it is not a problem to find those in the new home later.
Once all the goods are packaged, check whether everything is listed and labeled.
11. Set aside glass items or arrange protection on your own
All types of furniture like cupboards, showcases or glass tables which have glass mirrors or table tops, try to keep them separate under your own care. Because of the high number of goods, even if the laborers work carefully, most of the time there is a possibility of damage to the goods due to shaking while on the road.
So try to take such glassware under your own supervision or confirm whether there is a separate protection system when loading it on the truck.
12. Consume your refrigerated products on time
Make sure that the food kept in the refrigerator are finished before shifting. And keep it well-cleaned the day before the move.
13. Things that you might need in your new home
Make a list of the things you may need as soon as you move into a new home and pack them separately.
14. Make a list of service you will be needing on the day of shifting
Many times if you shift house on your own or the moving service provider cannot provide all kinds of services then you have to make arrangements for those services in advance. Such as AC, or other types of electric services including geysers, Setup service for beds of different brands or other furniture, gas line servicing etc. might be required.
So keep a list of such service providers in advance and relevant phone numbers in one place. And confirm the schedule by calling the service providers the day before the move.
15. Keep all keys in a box
Oftentimes you have many keys for your furniture and drawers. Keep such keys to yourself in a box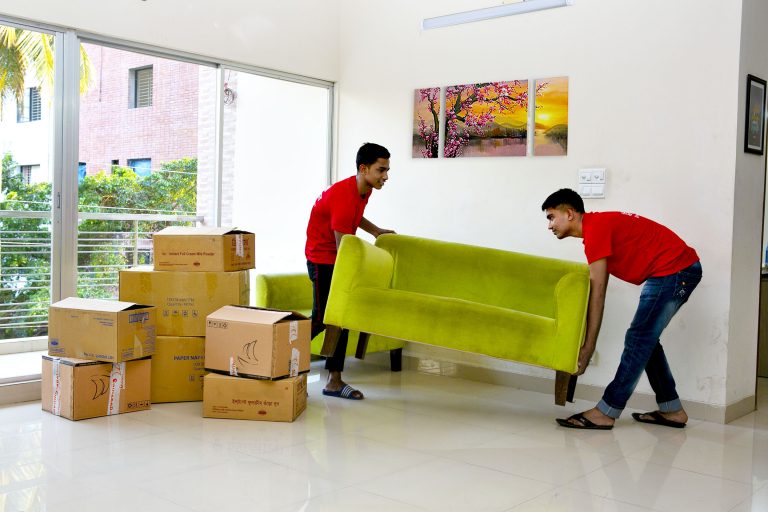 On the day of shifting
1.
Contact the moving company in advance via phone
On the day of relocation, contact the moving company directly in the morning to confirm whether the trucks and laborers are arriving on time at your pickup point.
2.
Guide the movers
When trucks and laborers arrive, have someone with them to guide them, let them know in advance which goods will get on the truck first and which ones will get later.
3.
Check whether the goods are being loaded properly
Make sure that the laborers are loading the goods in the truck properly, like putting heavy goods below the light things. Check if there is any support or protection between the furniture items.
4. Placing the goods in the right spot
Make sure that the laborers are unloading the goods in the new house where you want to keep them, otherwise you will have to work on it again later.
5. Ensure your and your families safety during ongoing Corona Pandemic
Before shifting home at this time, you must take the necessary steps to ensure the safety of everyone in the family. On the day of relocation, everyone should wear a mask and keep hand sanitizer with you.
6. Make arrangements to keep the new home clean immediately
Make arrangements to clean the house as soon as possible after the laborers have placed the goods in the new house.
In the current epidemic, your safety must be taken into consideration, in which case you can contact a company that provides disinfection services to keep your new home free of potential viruses.
7. Arrange baby food, dry food and water
Keep dry food and water at hand. If you have young children at home, arrange food for them in advance.
After shifting
1.
Make a list of things to do next
Make a list of what you need to do after moving to your new home. And complete the works one by one according to that list.
2.
Unpack according to priority
Un-pack all the goods one by one according to the goods that you will need first.
3.
Fix a deadline for tidying up your new house
How many days will it take to complete tidying up the new home; 3 days? 1 week or more?
If this deadline is not kept in mind, then you will find that the time is passing by but still the new house has not been arranged properly yet.
4. Clean your home
Once everything is un-packed and tidy, clean your new home thoroughly once again.
Although it takes you 10-15 minutes to read this relocation checklist, it takes time and proper planning to complete the relocation well and it is necessary to perform the tasks properly one by one for a long period of time according to that plan.
You can download the checklist from here – Home Shifting Checklist
Take our free consulting service on how to shift your home without hassle by calling at this number- 01939100100