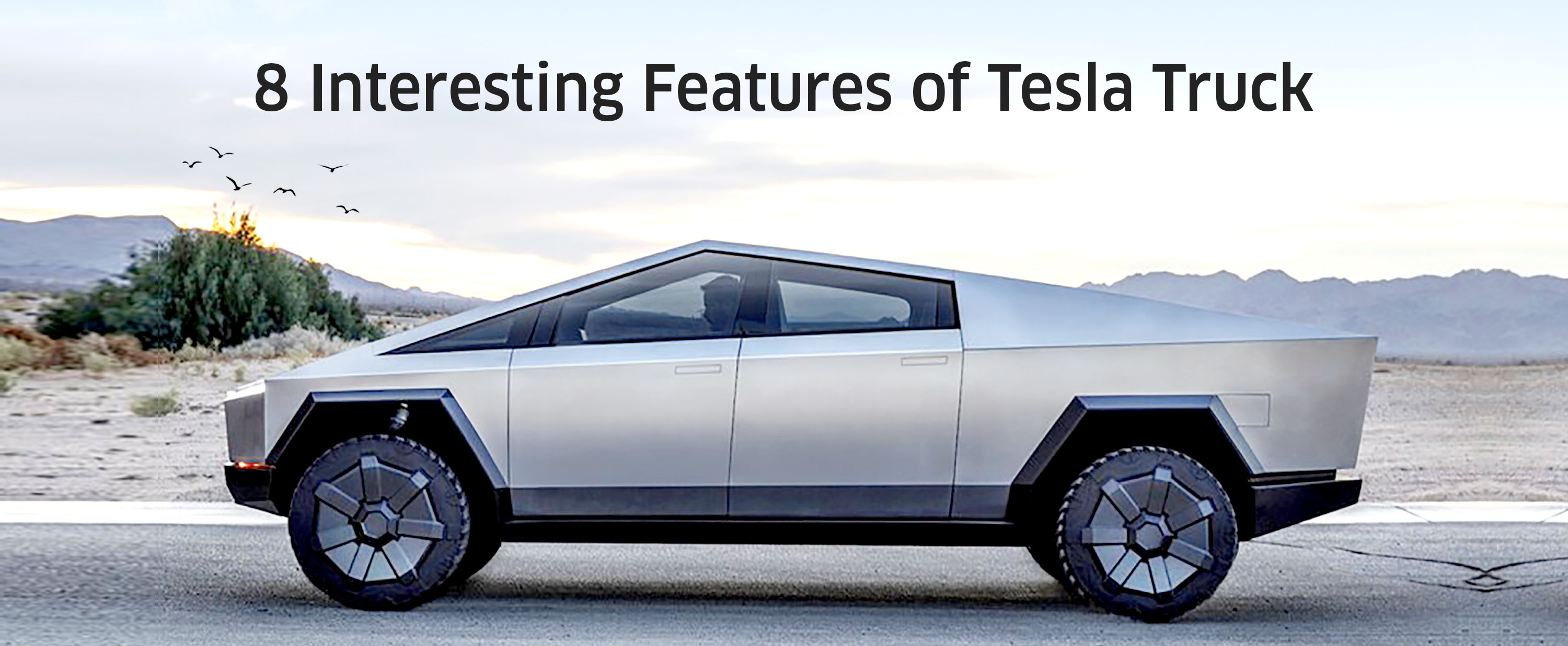 8 Interesting Features of Tesla Truck
Tesla, a world-famous electrical vehicle manufacturer company, just unveiled its new electronic cyber truck, which is the first of its kind. Earlier from them we got electric cars, electric bikes and now its electric pickup trucks. On November 27th, 2019, Tesla cyber truck was first shown in California, USA. Since then, it has been in talks everywhere. How's this truck? Does this truck have any special features or benefits? Here are 8 interesting features of Tesla Truck.



You get autopilot technology in this truck. That means the truck will be able to run without a driver.
The most exceptional feature of the Tesla truck is its futuristic design. Generally, the body is made by adding different parts when making a truck. But in the case of cyber trucks, the whole body is one part! This makes the truck look like a piece of iron.
Our deposit of fuels such as gas, diesel, petrol, etc. are slowly reducing everyday. Experts say, all our fuel cars will be converted to electric cars in the future. These electric vehicles such as cyber trucks have come to the market to encourage the use of renewable energy.
This truck is also much stronger than any petrol truck. On a strength test, it can beat easily the Ford 150 model truck.
In terms of speed, it easily overtakes Porsche's supercar. The standard version of the cyber Truck can accelerate from zero to 60km in just 2.9 seconds, which is as fast as the KTM RC390 CC sports bike. It is normal for a sports bike to have this kind of speed, but for a pickup truck like this weighing a thousand kg, it is a big deal.
Another notable feature of the cyber truck is its bulletproof body and glass. This truck will be able to save you from a 9mm bullet handgun! This cyber truck is made by a 3-millimeter stainless steel body. And this type of metal and body is commonly used in aerospace and rocket technologies.
There are three different versions of the Tesla cyber truck. According to these versions, prices and performance will vary. The lowest-priced cyber truck will cost 33 lakh 85 thousand taka. It can accelerate from zero to 60km in just 6.5 seconds and its top speed is 177 km. The price of two motored Tesla cyber trucks will cost Tk 41 lakh 77 thousand. It can accelerate from zero to 60km in just 4.5 seconds and its top speed is 193 km. The most expensive Tesla truck has three engines. The truck can accelerate from zero to 60km in 2.9 seconds and its top speed is 209km. The price of the truck has been kept at Tk 58 lakh 54 thousand. This expensive Tesla truck will be able to travel 500km once charged.
Tesla already announced the production of 2 lakh units of cyber trucks. You just have to pay 100 dollars for preorder. The most interesting thing is that within 35 hours of its announcement, Tesla has got about half a million orders for the truck.